Contact details and office hours for the RealVNC Support team are as follows:
Monday to Friday, English only. 
United Kingdom
Sales: 0800 888 6410
Support: 0808 281 2668
10am-9pm GMT
United States
Sales: 1-800-637-5890
Support: 1-800-685-9341
5am-4pm EST, 2am-1pm PST
Rest of World
Sales: +44 1223 310 410
Support: +44 1223 310 405
11am-10pm CET
Fax number
+44 1223 310 411
Post
RealVNC Ltd
Betjeman House
104 Hills Road
Cambridge
CB2 1LQ
United Kingdom
We do our very best to respond as soon as possible to all enquiries, but response times can vary, depending on the volume of support requests we receive.
If you have a paid Professional or Enterprise subscription, or a trial account, please call us, or use the Help widget at the lower right of a page to enter a search term to return relevant help articles. If this fails to resolve your problem, you can click on the Live chat button to talk with a member of the Support team during office hours.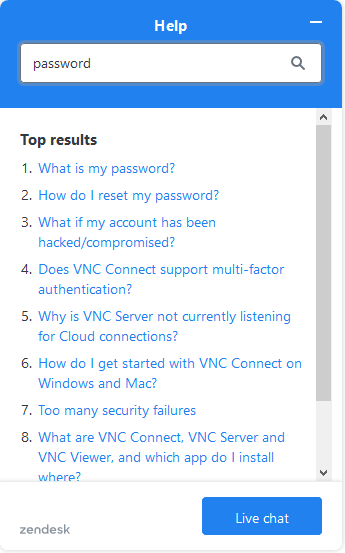 Out of office hours when live chat is not available, you can use the alternative Leave a message button on the Help widget, or submit a request, to ask for support. 
If you have a Home subscription, please submit a request to ask for support.
Please note that support for paid subscriptions and trial accounts takes priority over all other enquiries.