We do our very best to respond as soon as possible to all enquiries, but response times can vary, depending on the volume of support requests we receive.
Please note we're open Monday to Friday and operate an English language only service. Our hours of operation are:
5am-4pm EST / 2am-1pm PST / 10am-9pm GMT / 11am-10pm CET
Please note: If you have been invited to join a remote access team and are experiencing difficulties, please contact the VNC Connect team manager that invited you or your IT team in the first instance.
If you have a paid Professional or Enterprise subscription, or are taking a trial, you can search our Help Center or use the Help widget (on the bottom right of any web page) to return relevant help articles.
If you still need help, click on the Live chat button to chat with a member of the Support team during office hours, or call us using one of the numbers from the link above.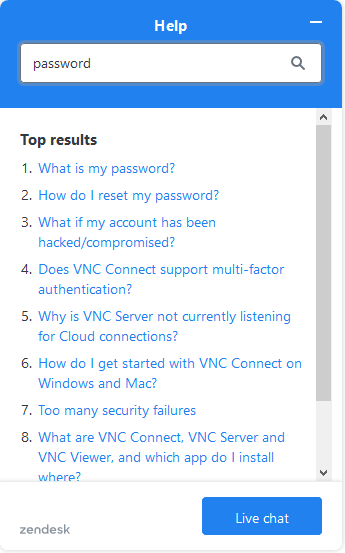 Live chat is not available during out of office hours. Use the Leave a message button on the Help widget instead. You can also get support Using the RealVNC Help Center.
If you have a Home subscription, please see this article before submitting a request: Support for VNC Connect Home subscriptions