Enabling 2-step verification
To set up 2-step verification for your RealVNC account, sign into the online portal and click the Security menu option using the Profile/person icon at the top right, then click the Enable 2-step verification button.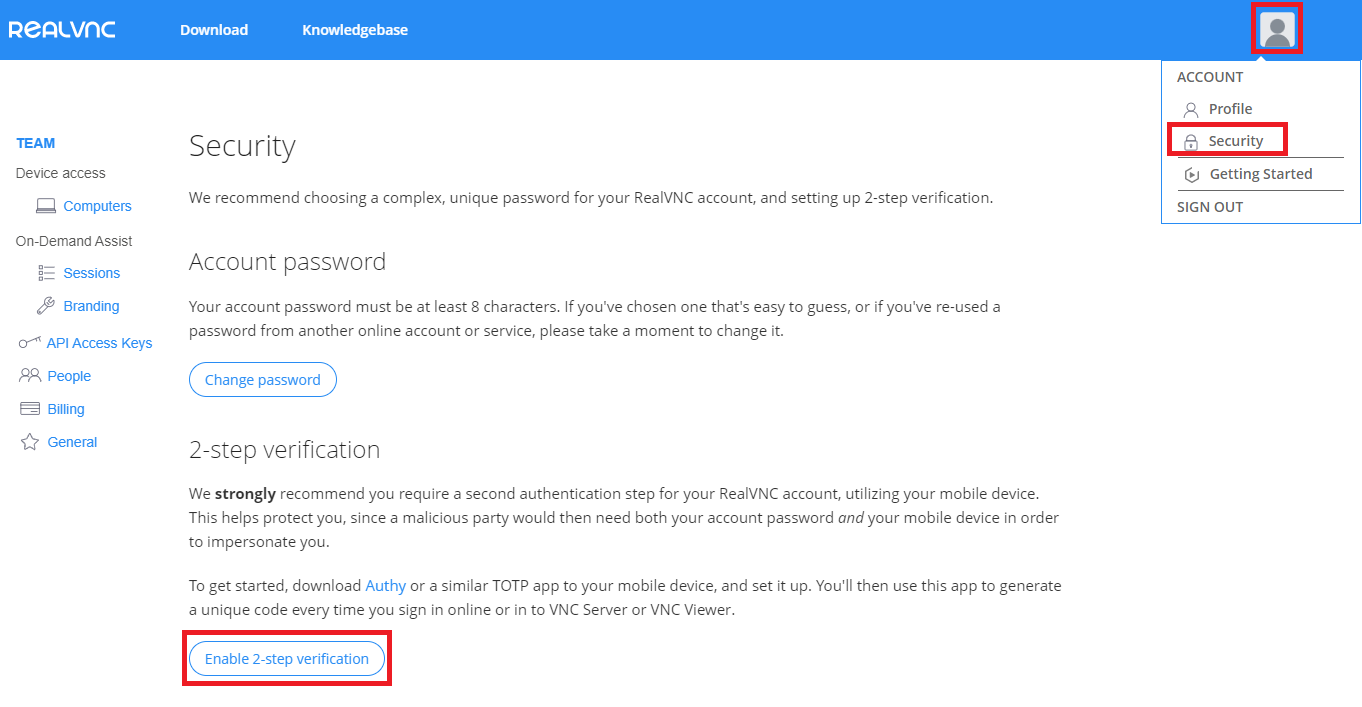 A QR code will be displayed which you can scan with your TOTP app (e.g. Authy, Google Authenticator etc).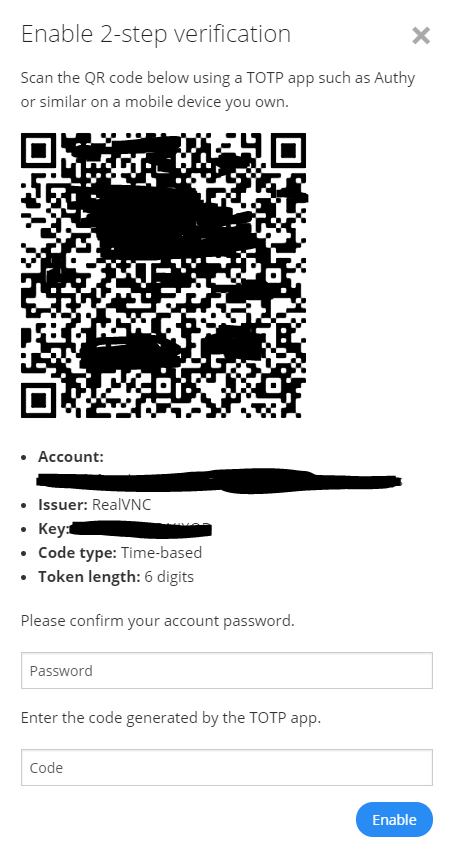 Confirm your account password and then enter the code generated by your TOTP app and click Enable.
Save your backup codes
Save the backup codes that are displayed once 2-step verification is enabled, so that you can sign into your account even if you lose access to your TOTP app or device. Each of these codes can only be used once.
If you don't save your backup codes, you may not be able to log into your VNC account
We recommend the use of Authy which provides recoverability. See https://authy.com/guides/realvnc/.
2-step verification is now enabled on your account and you'll be asked for your unique code every time you:
Sign in to your account online.
Sign in to VNC Server desk-side in order to license it.
Sign in to VNC Viewer in order to discover team computers and sync your address book.
Mandating 2-step verification (Enterprise only)
If you have an Enterprise subscription and have invited people in to your team to share remote access, each team member has their own RealVNC account. You can mandate that members enable 2-step verification in order to participate in your team. To do this, sign in online and navigate to the General page:

Note that requiring everyone includes you, and that the technician option is only available if you have On-Demand Assist.
Using backup codes
If you lose access to your TOTP app or device, you can use one of your backup codes (as saved when setting up 2-step verification above) to log into your account. If you need to log in using a backup code, disable and re-enable 2-step verification on your new device to maintain the security of your account.
Once-time use
Each backup code can only be used once.
Configuring Multi-Factor Authentication on VNC Server
To configure VNC Server to authenticate using multiple factors (e.g. RADIUS, Smartcard, X.509 Certificate), see Introduction to Multi-Factor Authentication