What is screen recording?
Starting with VNC Viewer 6.21.920 (Windows, Mac and Linux) / VNC Viewer 6.22.826 (Raspberry Pi) and VNC Server 6.8.0 you can record your VNC sessions as a webm video file.
This feature can only be used on desktops (Windows, Linux, and Mac) which are listed as Supported Platforms for VNC Connect. Session recording is not supported on VNC Viewer for Android or VNC Viewer for iOS.
How do I record my screen?
When connected to a VNC Server that supports screen recording (6.8.0 and later), click the toolbar button

to begin and end a recording.
Watch the video:
Where are recordings saved?
Recordings will be saved locally to a folder on the Viewer device, and will not be accessible from RealVNC systems or its employees. The location of the recording will by default be the standard media folder for the OS – on Windows desktops this is %USERPROFILE%\Videos\RealVNC\. This location can be altered using the Choose folder button, and then navigating to a new location before selecting OK.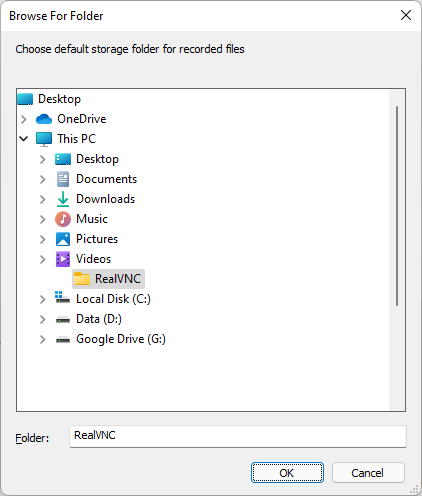 You can open the recording location from the Viewer by selecting "Show in folder", from here you can play back the recorded sessions with any standard webm file viewer, such as modern web browsers, or Microsoft Windows Films & TV viewer.
How do I configure screen recording?
VNC Viewer
Configuration options allow the recording of all sessions by default, or enabling and disabling a recording within a session – open the Viewer Application Preferences (from the Viewer's File menu, select Preferences...), and navigate to the Recording pane to find these options.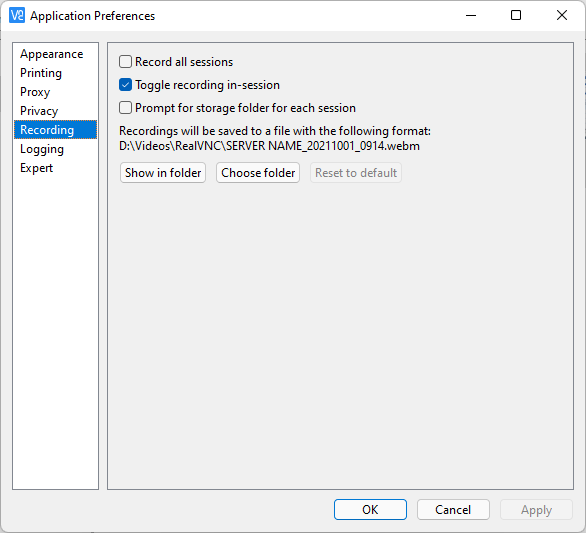 VNC Server
Screen recording can also be disabled on a per user basis on the VNC Server side by opening the VNC Server Options and navigating to the Users & Permissions pane. Here you can set Global Permissions, or per-user permissions to allow or disallow connected users to record sessions.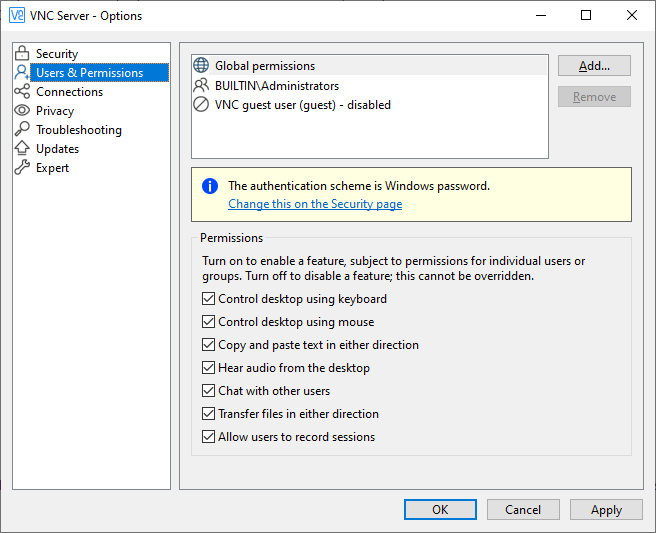 Other VNC Server options for Screen Recording can be found in the Expert tab, allowing the configuration of notification prompts when recording starts and stops, and the option to globally enable or disable screen recording regardless of user permissions.