If you are licensing VNC Server using license keys, a new key will be generated when your subscription renews. You'll need to re-license your servers within 28 days to avoid losing access to your computers.
You'll find the 25 character license key on the Deployment page of your RealVNC account. You'll also find a separate key for our previous VNC 5.x software, in case you need to remotely access legacy platforms.
If you use a license key, direct connectivity is automatically enabled, but there's a separate step to enable cloud connectivity.
To enable cloud licensing without enabling cloud connections, see Can I get my Enterprise license key re-applied automatically via the cloud when I renew, even if I don't want cloud connectivity?
Updating a license key desk-side via the License Wizard
If you do have desk-side access, you can enter your license key in the graphical License Wizard. To open the License Wizard, right-click the VNC Server tray icon and select Licensing: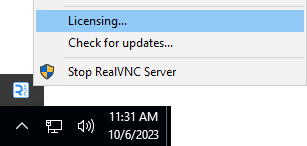 Select the Register offline button at the bottom of the License Wizard and follow the instructions:

Applying a license key at the command line
Run the appropriate command below as an administrator:
Windows:


INSTALL-DIR\vnclicense.exe

-add

KEY

Mac:


sudo

/Library/vnc/vnclicense

-add

KEY

Linux:


sudo

vnclicense

-add

KEY
Note: replace KEY with your 25 character license key
Updating a license key in bulk or remotely
Under any platform, you can deploy your license key at the same time as you remotely configure VNC Server using policy templates.
Under Linux, you can host VNC Server (and the license key) on a network share.