If you have VNC Viewer 6.20.113 (or later) and VNC Server 6.7.0 (or later) you can switch between multiple monitors attached to your VNC Server computer using the menu.
This feature can only be used on desktops (Windows, Mac and Linux) which are listed in our supported platforms and is not supported on mobile VNC Viewers.
Once connected open the menu by using the F8 key on your keyboard (on a Mac keyboard, you may need to use Fn + F8) and chose the "Select Monitor" option. This will expand allowing you to select the monitor you want to view. By default VNC Viewer will show All Monitors.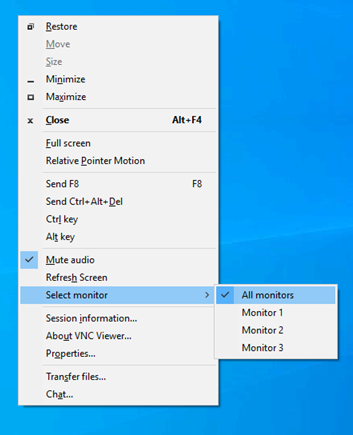 Please note, this setting is not saved between sessions and will need to be reconfigured every time you connect.