RealVNC Connect
You can easily update, add, or remove the payment details associated with your account by signing in online and navigating to the Profile page. This displays all payment methods on your account.
To manage the payment method for an individual subscription (add/remove), navigate to the Billing page.
Please note that you cannot remove a payment method if it is currently associated with a subscription that has Auto Renew enabled. Disable Auto Renew before removing a payment method. If you disable Auto Renew, you will need to manually renew your subscription. We'll send reminders in plenty of time.
Please be aware that only the Owner of the account or an Administrator (so long as they have the Administrator role on all teams owned by the same account) may update payment methods.
For further details on adding credit/debit cards, refer to Paying with Credit/Debit Card
NOTE: If you have more than one subscription, you'll have more than one team; use the online picker to switch between them: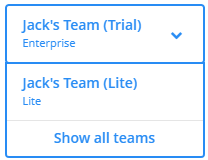 These teams are completely separate. When you sign in, please make sure you are working with the right team.
For further information on invoicing, renewals and payments, see Invoice and Payment queries
VNC Viewer Plus
For VNC Viewer plus, renew links are provided on the VNC VIEWER PLUS page when your subscription is 30 days or less from expiry.
Changing Invoice recipient and billing address
Currently invoices and payment confirmation emails are sent via email to the Invoice recipient specified on RealVNC Connect subscription (Billing page). If you want to change the email address invoices are sent to, please change the Invoice recipient on the Billing page of the RealVNC Connect portal.