VNC Connect
By default, VNC Connect Professional and Enterprise subscriptions auto-renew. We'll remind you by email in plenty of time that your subscription will be renewed and that we're going to take payment.
You can enable or disable auto-renew on the Billing page of the VNC Connect portal.
If you have multiple subscriptions, please ensure you are managing the right subscription using the team picker - see the example below.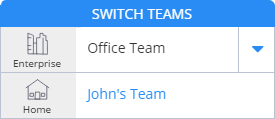 If the Enable auto-renew button is disabled, please add a payment method to your subscription. If you have a payment method on your account (displayed on the Profile page), add it to the subscription you have selected by pressing Add payment method. Select the card already on your account or add a new payment method.
If you have turned off auto-renew, you can renew manually by clicking the Renew Now from the Billing page of the VNC Connect portal.
NOTE: if there are more than 30- days before expiry the Renew Now button will not be displayed.
If you don't renew, refer to What happens if I don't renew?
Reapplying licenses on renewal
For all Professional subscribers, and for Enterprise subscribers using Cloud licensing, we'll automatically handle licensing of all your computers. There's no need to do anything.
Please note that VNC Server checks license entitlement with the RealVNC cloud services every 24 hours. It may take up to 24 hours for renewals, or conversions from Trial to Paid plans, to be activated.
If you have an Enterprise subscription and only establish direct connections to a particular remote computer, you'll need to manually re-apply your license key on that computer.
VNC Viewer Plus
When your VNC Viewer Plus support and maintenance expires within 30 days or less, the Renew link will be displayed on the VNC VIEWER PLUS page of the VNC Connect portal.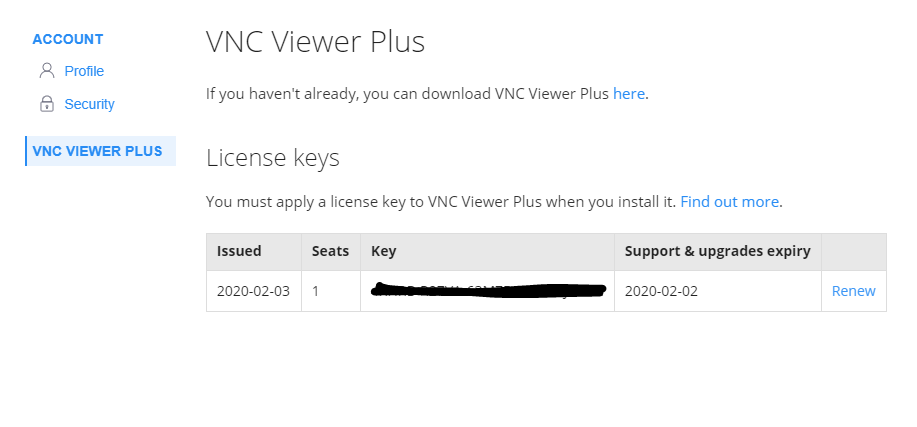 Clicking Renew will display the Renew VNC Viewer Plus page. Check the details, making any modifications required, and click Buy now to renew.