At the moment only one RealVNC account can be signed into RealVNC Viewer at any time. To switch between accounts you will need to sign out of RealVNC Viewer, then sign in with the second account. This process can be repeated as often as required.
Desktop
If you have more than one RealVNC account and need to switch between on your desktop computer you can do so in the application using the drop down menu on the top right.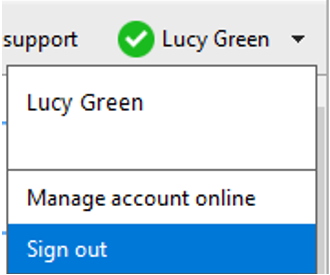 By selecting "Sign out" your cloud connections and teams will disappear from RealVNC Viewer and you will be required to sign in with your account again.

To sign in again please select "Sign in" at the top right of the application.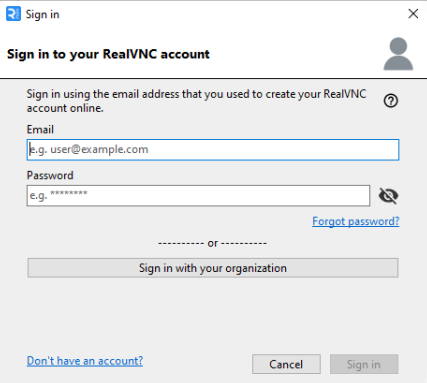 Mobile
To switch accounts on our mobile RealVNC Viewer application go to Menu> Settings > Sign out. You will be prompted if you want to store any passwords for when you sign in again. Once you've signed out, the RealVNC Viewer app will appear empty and you need to sign in again to establish cloud connections.
To sign in please go the "Menu". There will be a blue "Sign in" button to reconnect to your cloud devices.
Managing Teams belonging to different RealVNC accounts with a single account
Instead of switching accounts to access different computers, you can invite your other account(s) to become members of one of your existing Teams. This will allow you to see all of those Teams in a single account in RealVNC Viewer. For more information about inviting, please see How do I invite people in to my team to share remote access?