If you have an Enterprise subscription you can deploy, configure and license VNC Connect using Group Policy for Windows computers in your environment. It is recommended that this should only be done by a Windows System Administrator who is familiar with Group Policy.
Configuring VNC Connect
To get started download the appropriate policy template from the related downloads box from the download page for VNC Server.
Which template files do I need?
Depending on the version of Windows you are deploying to you may need a different policy template file.
For Windows Vista and later please use the top download option. For Windows 2000, XP and Server 2003, please use the bottom download option.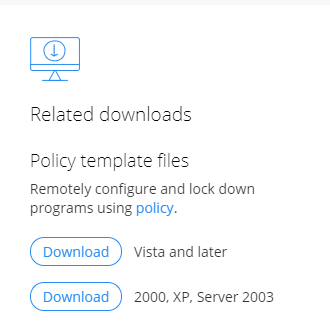 Once the policy template files have been downloaded you will need to extract and copy all files from the .zip folder into the relevant policy directory - this may vary depending on your version of Windows.
You can then edit the policy template using a group policy object editor. The relevant policy template files for customizing VNC Viewer and VNC Server parameters can be found below.
| | | |
| --- | --- | --- |
| Application | Area | Policy template file |
| VNC Server | Computer configuration | VNC Server> Service mode |
| VNC Viewer | User configuration | VNC Viewer |

Please note that parameters will default to Not configured if they are left as the default value. Parameters that are set to False will show as Disabled and parameters that are set to True will show as Enabled.
Once you have made any required configuration changes, you can deploy the modified template files using a Group Policy object to the required computers. For more in-depth information on possible configuration changes please see our article on remotely configuring and locking down VNC Connect using policy.
Licensing VNC Server
To license VNC Server using group policy you will need your 25 digit license key from the deployment page of your RealVNC account and the licensing policy template file. The policy template file should have already been copied into the relevant Windows directory along with the VNC Viewer and VNC Server policy template files mentioned in the deployment section of this article.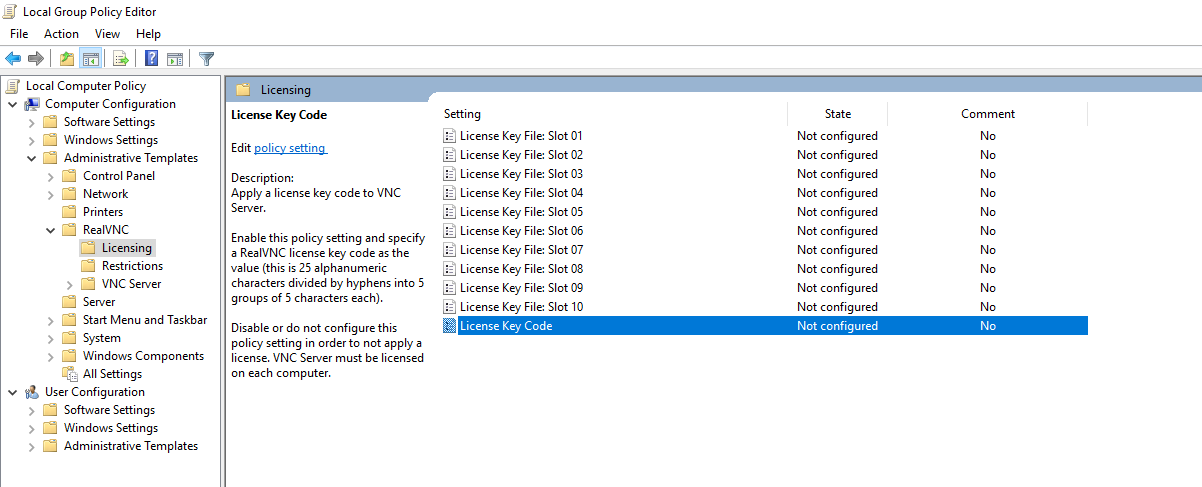 Next, expand the Licensing policy template section. You then need to edit the "License Key Code" and enter your 25-digit license key for VNC Server.